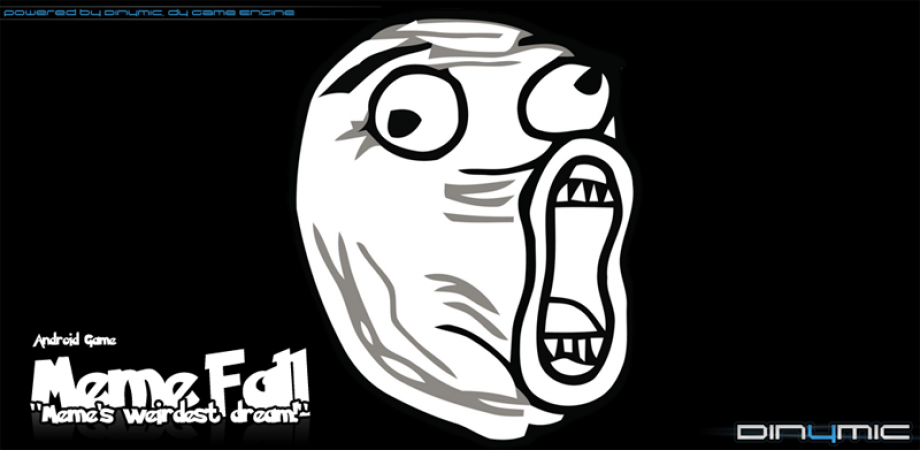 ChangeLog:

Version 0.51 11-01-2012

<- FIRST PUBLIC BETA VERSION

Fix´d Preferences bug




Started implementation of In-Game Music




Started implementation of More Space betwen the walls on the lower leves.




Version 0.61 16-01-2012

Fixed GameOver, LevelCompleted screens, Change pacfalling to memefall (previous game name), and other graphical changes (Prettier)




Change Private BETAVERSION to Public Version, and other graphical changes (Prettier)




Fixed, some text on the How to play screen.




In-Game music added.




Added button´s on the preferences menu, to enable/disable in game music and vibration.




The game Caracter shoud change acording to the position in the screen ( MeGusta on the bottom, FUUUu RAGE on the top, Challenge Accepted in the middle)




Improvements in the database system.




Simplify database System.




Started, How To Play Part2




Portuguese support Improved




Added early suport for bigger screens (up to 1280px by 580px [Aprox])




Added a Story Screen




Version 0.62 17-01-2012

Performance Tweeks (hero positioning)



Din4mic registed as a developer in Android market


Improved About Screen




Performance Tweeks (Colision checks)




Added In game button to stop/start the music




MenuScreen Improved in difrent resolutions




SplashScreen recreated ( Without using Thread´s as it didin´t work with Android 4.0 (ICS) )




StoryScreen Improved in difrent resolutions




HowToPlayScreen Fixed!




Added a Type3 Wall to bigger screens, improved map generator system.




Version 0.63 18-01-2012

Bug FIXED, music activation on the preferences screen, only work´s if vibration is also on!




Benchmark Fixed (Now, return to the options menu after win or loss, and dont store the result in the database)




Backkey working in menu




Fixed SplashScreen bug




Better coin placement system (Split the coins more uniformely throw the game).




Fix backKey Problem on preferences Screen




Allow the game moveToSD!




Version 0.64 20-01-2012

Preferences Screen improved, margins on the seekbar and buttons




New HUD colors, and minor change in background to make them more visible.




Slower gameplay to faster gpu phones (Early development)




Version 0.70 24-01-2012

Popup if the highest score was betten on the gameover Screen




Global Score screen added




Reset Button added to preferences screen




SubmitScore if is the higherScore to din4mic added "Create a ShareScore Funcionality"




In-Game Speed ajusted by benchmark result




BD Improved (more tables)




Other Minor fix´s




Version 0.71 25-01-2012

Improved SendScore screen




Massivly improved Menu Screen ( Works perfecly in all screen sizes now )




Custom buttons early implementation




Added about button on prefences screen




Added Donate button on about screen




New splashScreen




Version 0.72 26-01-2012

BD bug´s fixed, including "DATABASE BUG!, must create the database in the first time the user play or in the preferences screen ( in the preferences screens is already there, but it need to be updated )"




Continuation of custom buttons implementation




Player highscore on the send score page




New system to keep the screen on in-game




Minor bug´s fixed




Version 0.73 29-01-2012

In game lateral colisions improved




Begining the study of a level selector




Lowered vibration pattern




Added gravity (unless you turn the phone upside down, it will allways fall)




Version 0.74 31-01-2012

New Buttons




Better Obstacles (walls) X positioning system




Version 0.75 1-02-2012

Added send feedback "hidden" button in the menu Screen




Fixed send score to din4mic (Now, you can send one score per device)




Version 0.80 03-02-2012

Massive GamePlay Update:




Added faster and slower GamePlayBox´s




Added killer NyanCat´s (evil bastards)




Some colision-system changes




Added Background to menu, preferences, and about screens.




All Game Screns are now FullScreen to give more in-game consistency.




Version 0.81 04-02-2012

Added background to sendScore e higherscores screens




Added title to higherscores screen




Added full Portuguese support (Except images due to game size)




Fixed out of screen bug




Fixed stuck on top bug




Code organized




Minor fix´s




Version 0.82 04-02-2012

Prompt the player on the first time playing, to run the benchmark




Better "slowdown"/"speedup" method for faster/slower phones




Minor fix´s




Version 0.83 05-02-2012

New menu background and some layout changes




Support to lower resolutions screens




Version 0.84 05-02-2012

WallSpacing acording to level (Make more space betwin the walls in the lower leves. )




New Benchmark System with full Portuguese Support




Fixed auto finish game ( some phones, when you start the map, it jumps to the end )




Version 0.85 05-02-2012

Improved Global Score System




Visual identification on your score in the list ( if your score is on the top 25 )




Version 0.86 06-02-2012

Improved dificulty by spacing walls acording to level




Improved gameSpeed ajustment based on acelerometer




Fixed 1º Execution on the preferences screen




Some useless code cleaning




Version 0.87 07-02-2012

Better virate on colision system




Fall speed inscrese without colisions




Center AdMob on GameOver and LevelCompleted screens




Improved About Screen




Better Plataform spacing system




Full suport on tablets




Fixed scores screen (Score didint appear)




Fixed Colision System (no more stucking plataforms)




New vibration system




Added sound effects




Better colision dedector system




Other minor fix´s




Subtimeted BlackBerry Playbook Verson for aprovement(Based on Verson 0.87) Cost 1.99$ and Ad-free 07-02-2012 18h

Version 0.88 07-02-2012

More speed as the levels inscrease




Better nyan´s distribuition in game




More speed on biggerscreens




More side space for the hero fall




Verson 0.90 09-02-2012

New level Selector Screen! ( EARLY BETA )




Fixed some spacing issues




Fixed Side Colisions ( ------------------ FIXED? ------------------ )




Improved Plataform creation system based on screen resolution




Created a separated configurations system (To future modifications )




Scroll on the Prefences Screen




Better Nyan Placement System




Level Rank Implementation (Started)




Verson 0.91 to 0.95 09-02-2012 to 10-02-2012

Continuation of Level Selector Implementation and Level Rank Implementation




Verson 0.96 10-02-2012

New level Selector Finished




Added better plataforms distribuition




New Plataforms Draws




Improved feedback from colisions (sound and vibration)




Level Rank Implementation Finished




Improved Story Screen




A lot of other minor fix´s




Verson 1.00 10-02-2012

Speed ajustments



Release on Android Market


Verson 1.01 10-02-2012

Fixed portuguese rank text in LevelCompleted screen




Fixed force close due to audio NullPointerException




Verson 1.01A 11-02-2012

<- ALFA VERSION

Change drawing mode from pixeis to density




Fixed language bug




Improved plataforms positioning system.




Verson 1.1 16-02-2012

Massively Improved colision system




Improved sound support, Added "background story" (sky, dark light, light)




Improved gameplay on HighDensity screens (GS2, ZTE Blade, ...)




Better gameSpeed




And other minor improvements...




Verson 1.12 25-02-2012

<- CURRENT PUBLIC VERSION

Fixed some miswrote words (Uploaded in the alert box on gameOver)




Here to Where in How to play 1




Number of scores displayed in alter box ( from 25 to 50 )




Some changes with the ads system (Added ads to the levelSelector screen, but only if the screen height is at least 480px)




Some layout improvements on the levelselector screen




Fixed a sendscore bug



Comentários
Did you glue the the letters meet toetgher or just the wood pieces? I bought letters today at Hobby Lobby to do this but they are already painted and somewhat heavy. I hope it works with the glue gun and wood strips!
às 04:27:45 de 13-07-2016
i have played clutter and clutter 2 and will always keep them because they never get old no matter how many times you play them. Can&8217;t wait for clutter 3!thanks
às 00:56:26 de 14-07-2016
Wow! Talk about a posting knocking my socks off!
às 02:03:55 de 14-07-2016
Looks like that&8217;s what I need. I was just laid off and I need coverage for a year since I&8217;m going back to school. Seems like the short term insurance is the best right now.
às 02:41:35 de 14-07-2016
Car is not totally wrong, it is a Volkswagen. If your plate number is correct, you pay it. Gawd, people try to use little things to get out of the fact they do stupid things.
às 02:47:36 de 14-07-2016
Năm 2015 chúng ta trở về đổi tên HCM thà nh tên Saìgòn, cái thằng có tên &8220;thằng nhà quê&8221; cũng phải đổi tên, có thể tôi sẽ đặt tên mới cho hắn là tên &8220;thằng nhà thổ&8221; để ngà y đêm hắn ăn uống đồ phế thải của các cô gái giang hồ mà 37 năm qua bị chế độ Việt Cộng đẩy họ tới ngỏ hẻm nhà chứa&8230;
às 04:48:36 de 14-07-2016
Big help, big help. And superlative news of course.
às 05:20:08 de 15-07-2016
I&8217;m a camper too and this year in Yosemite I was made fun of because I took my food processor to make fresh chimmichuri..yeah I shut everyone up when they took their first bites of grilled flank steak!! I commend you for cooking the pasta at camp Thanks for stopping by my place and glad to have found yours!
às 05:28:37 de 15-07-2016
Always a good job right here. Keep rolling on through.
às 06:24:42 de 15-07-2016
Olá eu já estou mais que motivada acabei de voltar da academia&8230;agora estou morta haha.Gostaria de fazer um treino nessa academia,mais é muito carinha pro meu bolsa haha.Bjus[]
às 06:34:14 de 15-07-2016
That's the best answer of all time! JMHO
às 06:36:36 de 15-07-2016
I don&8217;t mind digging :)1) Inaccessible in that the drivers for what I feel often are not transparent.2) Recursive as in a bad pun&8230;3) I want to understand feelings and that&8217;s a difficult thing to do the inside lol.4) Any thought is uh-may-zing lol. Ian
às 07:12:28 de 15-07-2016
PROCOPENSE11 de janeiro de 2013O QUE TEMOS QUE LEMBRAR É QUE ESTES SUJEITOS SÃO EMPREGADOS DO POVO, ELES TEM QUE FAZER O QUE É BOM PARA A CIDADE E NÃO PARA ELES.USAM DO PODER PUBLICO PARA TIRAR VANTAGENS PARA SI, ENTÃO PORQUE A POPULAÇÃO INSATISFEITA NÃO ENTRA COM UMA AÇÃO PUBLICA PEDINDO A EXONERAÇÃO DOS MESMOS?
às 07:35:56 de 15-07-2016
What busy mum wouldn&8217;t want a sexy machine that does all the work for them?With 4 very fussy kids I would live to make a healthy yummy spag Bol with all fresh ingedients and some hidden veggies . Rissoto would be great to make seeing as the 2 times I have tried it has been a big fail!!!And just think off all the yummy sorbets mmmmmmmAnd the choc cheesecake on the previous page looks divine!
às 08:31:24 de 15-07-2016
Brilliance for free; your parents must be a sweetheart and a certified genius.
às 09:15:07 de 15-07-2016
You've really impressed me with that answer!
às 09:30:25 de 15-07-2016
You're a real deep thinker. Thanks for sharing.
às 10:41:58 de 15-07-2016
Pleasing you should think of something like that
às 11:03:27 de 15-07-2016
amigo, lector y oyente, lo primero GRACIAS por escribir tus opiniones o preguntas:Esperemos que yo esté equivocado, aunque me temo que no, serí­a lamentable la entrada de Microsoft en Apple.Una vez más gracias por tu puntualización y gracias por seguirnos, te damos nuevamente las gracias, PASA LA VOZ!!
às 11:23:43 de 15-07-2016
Phenomenal breakdown of the topic, you should write for me too!
às 11:23:45 de 15-07-2016
porque los hombres hablan mas a menudo de que piensan en eso, nosotras las mujeres pensamos pero no estamos en cada momento diciandolo&8230;lo pensamos y ya, somos mas privadas.hombres y mujeres son iguales en esto.al fin de acuerdo con la tia encima mia.
às 12:46:59 de 15-07-2016
I hate my life but at least this makes it bearable.
às 13:49:25 de 15-07-2016
vous confondez deux choses Lookfire : la rémunération d'un travail (bien qu'en en l'occurrence ici bénévole) n' a rien à voir avec le droit d'auteur : on peut me payer pour prendre une photo, cela ne rémunère pas son droit d'exploitation ultérieur.
às 14:10:52 de 15-07-2016
Tout ce que j'écris est facilement vérifiable, mais ça demande de se bouger un peu pour aller voir. Sinon consommer l'information pillée et « gratuite » c'est plus facile et plus confortable, je le concède.
às 14:17:43 de 15-07-2016
At last, someone who knows to find the beef
às 14:37:49 de 15-07-2016
---
Enviar Comentário
Os comentários poderão ser moderados caso seja necessário.